Know your blueberry
Farm. Fresh. Organic.
HARVEST
We hand pick our blueberries to ensure that our customers enjoy freshness and quality as if they picked the berries themselves. Each plant typically produces 2-4 harvests per season, with 3-7 days in between each harvest.

​TYPICAL HARVEST SCHEDULE
Duke: June 15 - July 10
Spartan: June 25 - July 15
Legacy: July 1 - July 15
Blue Crop: July 15 - August 5
Liberty: August 1 - August 15
Chandler: August 1 - August 15
Aurora: August 15 - September 15
BLUEBRRIES & NUTRITION
Though blueberries themselves are not a cure-all, they contain a number of substances which are thought to have health benefits. These substances include, but are not limited to fructose, fiber, vitamins and antioxidants.
Antioxidants thus far, seem to have the most conclusive role in the prevention/ delaying of such diseases as cancer, heart disease and the aging process however, a limited number of studies, especially long term and on human beings, are not available at this time.

One cup of blueberries contains 14% DV of fiber 2.41 g per 100g
Blueberries are a source of vitamins, minerals, dietary fiber, phenolics, and flavonoids
Blueberries are very low in fat and sodium

SOURCE: USDA National Nutrient Database For Standard Reference, Release 19 (2006)
#Hoodriverblueberry | #FarmFreshOrganic
Powered by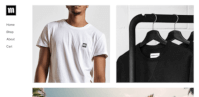 Create your own unique website with customizable templates.